Tikai 50 vienības - "AMG" velosipēds par 7109 eiro (+ foto)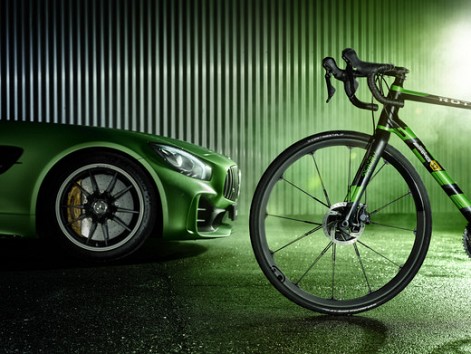 Foto:
2017.g. 10.novembris, 15:03
Saistībā ar "AMG" kompānijas 50 gadu jubileju, cieši ar "Mercedes" saistītais vācu uzņēmums, pasūtījis velotehnikas ražotājam "Rotwild" modeļa "R.S2" īpašo versiju "Beast of the Green Hell".
Ekskluzīvais velosipēds ar oglekļa šķiedras rāmi ir pilnībā roku darbs un tiks izlaists ierobežotā skaitā – 50 eksemplāros. Tas veltīts ne mazāk ekskluzīvajam sporta auto "Mercedes-AMG GT R", bet cena - 7109 eiro – izvēlēta ar nolūku, lai atgādinātu par laiku, ko divdurvju kupeja uzrādīja Nirburgringas 20,8 km garajā trasē – 7 minūtes, 10,9 sekundes.
"Rotwild R.S2 Limited Edition Beast of the Green Hell" būs pieejams vienīgi zaļajā "AMG" tonī, kas tika izmantots arī automašīnas virsbūvei.
Piebildīsim, ka šis ir jau trešais abu kompāniju kopdarbs – 2013.gadā tika izlaists oglekļa šķiedras kalnu divritenis "R.X45 AMG" ar priekšējo un aizmugures amortizāciju, bet divus gadus vēlāk - īpaši skarbiem apstākļiem konstruētais kalnu divritenis "Rotwild GT S".
Foto: Publicitātes attēls