Hyundai i40 tests Latvijas ceļos 2012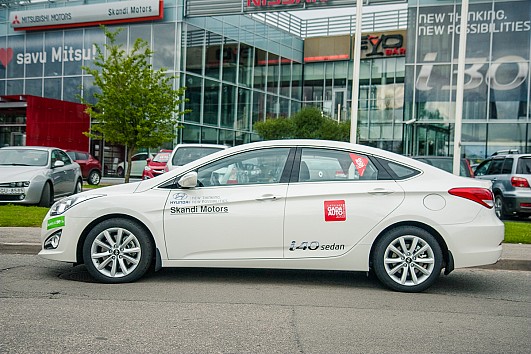 Foto: Hyundai i40 2012
2012.g. 21.November, 14:02
Iepriekš "Hyundai" D segmenta modeli sauca muzikālā vārdā par "Sonata", taču pirms dažiem gadiem korejieši jaunas identitātes meklējumos nolēma saviem automobiļiem Eiropā ieviest oriģinālu numerācijas sistēmu, pēc kuras jaunais vidējās klases modelis, kura prezentācija notika pērn Ženēvas auto izstādē, bija kļuvis par "i40". Atšķirībā no ierastās prakses "Hyundai" visupirms 2011. gada rudenī laida tirgū SW jeb universāla versiju, bet tikai šā gada sākumā sekoja sedans.
Līdzīgi kā iepriekš "Hyundai Sonata" un "Kia Magentis", arī jaunais "i40" veidots uz kopīgas modeļa bāzes ar "Kia" dvīņumāsu "Optima" (tā nākusi "Magentis" vietā) un abiem ir analogs tehniskais pildījums.
Dizains. "i40" izceļas ar modernu, atpazīstamu dizainu. Graciozs jumta izliekums, kurā organiski iekļaujas slaidā sānu logu kontūra, un nudien glīti profilēts aizmugures nobeigums veido elegantu kupejveida siluetu. Atšķirīgās aizmugures konstrukcijas dēļ sedans ir par 30 mm īsāks par universālu. Citās galvenajās gabarītu pozīcijās abi ir līdzīgi. Auto priekšpuses dizains veidota "Hyundai" raksturīgā korporatīvā stilā.
Drošība. Ne mazāk uzmanības kā izskatam korejiešu ražotājs veltījis drošības uzlabošanai. Kā liecina oficiālā informācija, virsbūves strukturālā stingrība ir ievērojami lielāka nekā iepriekšējās paaudzes modelim. 62% nesošo elementu te izgatavoti no augstizturīga tērauda. Speciāli pastiprinātas priekšdaļas deformācijas zonas, grīdas panelis un sānu statņi, jo sevišķi jumta stiprinājuma vietās. Tā rezultātā "i40" izdevies nopelnīt augstāko, t.i., piecu zvaigžņu vērtējumu "EuroNCAP" triecienizturības testos.
Nopietni pilnveidojumi veikti auto balstiekārtai. Lai gan saglabāta līdzšinējā "klasiskā" konstrukcija – priekšā "McPherson" statņi, aizmugurē daudzsviru piekare, taču optimizēta atsevišķu mezglu ģeometrija, uzstādīti stingrāki amortizatori, atsperes un šķērsstabilizatori, kas ļāvis uzlabot ne tikai taisnvirziena gaitas stabilitāti, bet arī noturību asos pagriezienos.
It kā jau grēks būtu sūdzēties – "i40" sedana kravas telpā ar 503 litru nominālo ietilpību (par 47 l mazāk nekā i40 universālim). Taču estētu apjūsmotās kupejas tipa virsbūves neizbēgams blakusefekts ir salīdzinoši šaura bagāžnieka atvere, kas stipri ierobežo kravas lādes saimniecisku izmantošanu. Mēģinot bagāžnieku paplašināt uz salona rēķina, atklājas vēl viena šaurā vieta, proti, telpa, kas atveras, kad noloka aizmugurējo sēdekļu atzveltnes, izrādās tik zema, ka, lai iemānītu mašīnā pusaudžu velosipēdu, tam būs jānoņem abi riteņi.
Latvijas Gada Auto 2013 žūrijas komentāri.
Haralds Dambis "4plus" SIA tehniskais speciālists: "Hyundai i40" ir ļoti patīkama izskata auto ar ietilpīgu salonu un lielisku iekšējo apdari. Salons ļoti ērts, iekšējās apdares materiāli ir glīti un kvalitatīvi, arī montāžas kvalitāte augsta. Pēdejos gados korejiešu autoražotāji šajā jomā izceļas īpaši.
Ražotāja piedāvātā dzinēju gamma ir pietiekoši plaša, iespējas izvēlēties sev tīkamāko ir gan ekonomiskākas, gan dinamiskākas braukšanas piekritējiem.
Jānis Mežulis, arhitekts: "Visi šīs klases auto "Chevrolet Malibu", "Hyundai i40" un "Kia Optima"pēc būtības ļoti līdzīgi. Šajā situācijā varat ļauties emocijām un izvēlēties pēc sev tīkamākā dizaina. "Hyundai40" varētu patikt vairāk tiem, kurus iepriecina kādi spilgtāki akcenti. Brauc visi līdzīgi, labi."
Dīlera komentārs.
Niks Jaunzems, Auto Halle SIA mārketinga speciālists: "Jauno "Hyunda i40" pieteicām "Latvijas Gada auto 2013" vairāku iemeslu dēļ. Viens no galvenajiem iemesliem bija tas, lai plašākai auditorijai prezentētu jauno modeli, kā arī nododot ekspertiem novērtēt ne tikai dizainu, bet arī lieliskās gaitas īpašības. Svarīgi ir arī paskatīties un sekot līdzi konkurentu jaunumiem.
"Hyundai" automobiļi kopumā ir nopietni sevi pieteikuši pasaules un Latvijas auto tirgū. Jaunais "Hyundai i40" konceptuāli ir iepriekšējā modeļa "Sonata" turpinātājs, kas apvieno to pašu plašo salonu un stabilās gaitas īpašības. Jaunā "Hyundai i40" galvenie plusi ir kvalitāte, 5 gadu garantija un elegantais dizains. To papildina ekonomiskie un modernie dzinēji, kas ir videi draudzīgi, pateicoties "Blue Drive TM" sistēmai, kā arī 6 pakāpju manuālajai un automātiskajai ātrumkārbai.
Tehniskā informācija un cenas.

Konkursā pieteikts ir piecdurvju "Hyundai i40" sedans. Cena sākot no 18 990 eiro. Komplektācijas un aprīkojumu var skatīt šeit 
Benzīna dzinēji:
1.6 l, 135 Zs, kombinētais degvielas patēriņš no 6,0 l/100 km, CO2 no 140 g/km
2.0 l, 178 Zs, kombinētais degvielas patēriņš no 6,8 l/100 km, CO2 no 159 g/km


Dīzeļdzinēji:
1.7 l, 115 Zs, kombinētais degvielas patēriņš no 4,3 l/100 km, CO2 no 119 g/km
1.7 l, 136 Zs, kombinētais degvielas patēriņš no 4,5 l/100 km, CO2 no 113 g/km