Jaunais motocikls BMW G 310 GS sola intensīvu braukšanas baudījumu uz jebkura seguma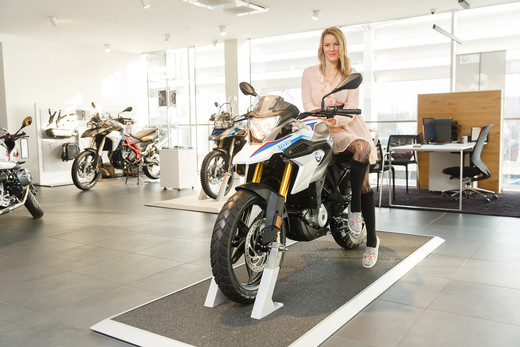 Foto:
2017.g. 09.November, 16:04
Pēdējos 17 gados motociklu vadītāju skaits ir sarucis par teju 22 tūkstošiem, liecina Ceļu satiksmes drošības direkcijas dati.
Iespējams, viens no iemesliem šai statistikai varētu būt tas, ka sākumā izvēlētais spēkrats nav bijis piemērots un braukšanas prieks ir pārvērties bailēs, uzskata ceļu satiksmes noteikumu pasniedzēja un praktiskas braukšanas instruktore Lelde Peleģe - Vēvere.
Lai arī moču sezona nupat ir beigusies, tiem, kuri šo sezonu ir pavadījuši kārtojot eksāmenus, lai tiktu pie A kategorijas vadītāja apliecības, īstā braukšana sāksies vien nākamajā sezonā. Ņemot piemēru no senčiem, kuri kala ratus ziemā, arī BMW nule ir radījis gluži jaunu motociklu G 310 GS, kurš ļaus justies uz ceļa pārliecinātam ikvienam iesācējam, sola BMW Motorrad zīmola vadītājs Jurģis Bergs.
"Šis mocītis ir piemērots dāmām un arī kungiem, kuri vēl nejūtas gana droši uz spēkrata. Ja sākumā ir bail no motocikla jaudas, es savām audzēknēm iesaku ņemt mazāku un mierīgāku motociklu. Tā vadītājs jūtas ērtāk pie stūres un nav visu laiku sasprindzis. Jo brīvāk vadītājs jūtas uz moča, jo ātrāk arī būs manāma attīstība un varēs izvēlēties arī ko jaudīgāku," stāsta motoskolas meitenēm un dāmām "Motomeitenes.lv" ceļu satiksmes noteikumu pasniedzēja un praktiskas braukšanas instruktore Lelde Peleģe - Vēvere.
Dizainiski jaunais BMW G 310 GS iemieso GS garu - robusts un daudzveidīgs. Ar šo motociklu ir iespējams veikt ikdienišķu skrējienu pilsētā, braucienu laukos, iepazīt meža takas vai pievārēt sliktākus ceļa segumus. Par to gādā 180 mm aizmugurējās piekares gājiens un apvērstā dakša ar 19 collu riteni priekšā, bet stingrais rāmis nodrošina stabilitāti.
Pēc Leldes Peleģes - Vēveres teiktā iesācējiem, īpaši dāmām, grūtības sagādā tieši motocikla pacelšana, ja gadījies to apgāzt. Eksperte uzskata, ka šis mocis ir labs variants iesācējiem arī tā iemesla pēc, ka sver vien 169 kg, vidēji tie sver krietni vairāk.
Turklāt viss ir paslēpts apakšējā daļā, tāpēc nav jāuztraucas par detaļu nolaušanu kritiena gadījumā. Tāpat arī stūre, kāpšļi un vadības rīki ir izvietoti sabalansētā veidā, tāpēc tos ir viegli sasniegt arī mazāka auguma braucējiem. Bet paceltais vadītāja sēdeklis nodrošinās to, ka būsiet redzams ceļu satiksmes dalībniekiem un arī pats labāk pārredzēsiet notiekošo uz ceļa.
G 310 GS ir aprīkots ar viencilindra dzinēju, kas īpaši izceļas ar to, ka tas ir sagāzts uz aizmuguri, savukārt cilindra galva pagriezta par 180 grādiem. Ar šādu risinājumu motociklam ir zemāks, priekšējam ritenim pietuvināts smaguma centrs, tāpēc to ir viegli vadīt arī asākos līkumos.
"Taču arī šis cinītis var gāzt lielākus vezumus - 313 cm3 darba tilpums un 25 kW/34 ZS pie 9500 apgriezienu minūtē garantē nepieciešamo jaudu un paātrinājumu. Savukārt motors ir veidots praktiski unikāls, jo to iespējams "pabarot" ar jebkādas kvalitātes degvielu - gan to, kas nopērkama tepat, gan arī to, kas iegādājama citos kontinentos," stāsta Bergs.
Eksperti ir vienisprātis, ka šis dzelzs rumaks derētu arī kādam garākam piedzīvojumam, piemēram, braucienam pa tuksnešiem. Tā augstais "klīrenss" jeb motora apakšējās daļas augstums neļaus iestigt, taču, ja tomēr gadās, tad tā svars ir gana mazs, lai būtu cerība tikt cauri vien ar vieglu pārbīli.
Foto: Publicitātes attēls
Foto: Publicitātes attēls