Salto ar laivu un tehniskas neveiksmes - Nikita Lijcs no Vācijas atgriežas ar piekto vietu (+ foto)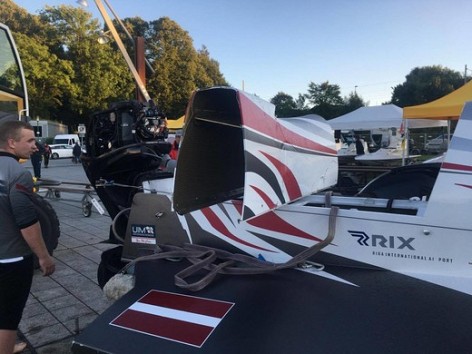 Foto:
2017.g. 12.September, 09:09
Nikita Lijcs Eiropas čempionātā lielā konkurencē iegūst piekto vietu
Kā jau "Jūrmalas Vārds" rakstīja, 9.-10. septembrī Vācijas pilsētā Rendsburgā notika Eiropas čempionāts ātrumlaivām F4 klasē, uz kuru devās arī "Jurmala Racing Team" pilots Nikita Lijcs.
Uz sacensībām bija pieteikušies 35 dalībnieki, sacensību vietā bija ieradušies 32 piloti no dažādām valstīm, kas Eiropas čempionātam ir rekordliels skaits. Trasē atļautais dalībnieku skaits bija tikai 15, tāpēc dalībnieki tika sadalīti trijās grupās, lai varētu nobraukt gan treniņus, gan kvalifikāciju. Dalībnieki, kuri uzrādīja labākos rezultātus, piedalījās pamatsacensībās. Četrām laivām, kas palika pirmās "aiz strīpas", notika gandarījuma brauciens.
Nikita kvalifikācijas braucienā izcīnīja trešo vietu, atpaliekot par divām simtdaļām no soma Juho-Mati Manninena (Juho-Matti Manninen) un Lielbritānijas pilota Bena Dželfa (Ben Jelf).
Pirmajā braucienā, startējot no trešās vietas, jau pirmajā taisnē cīnījāmies par pirmo-otro vietu. Diemžēl otrajā taisnē vai nu tehnisku iemeslu dēļ, vai tāpēc, ka trāpījās neveiksmīgi gan vējš, gan citu laivu mestās ūdens šaltis, Nikitas laiva uzmeta salto... Paldies Dievam, Nikitam pašam nekas nekait, bet braucienu nebija iespējams turpināt. Veiksme neveiksmē bija tā, ka pirmajā dienā notika tikai kvalifikācija un viens brauciens, tāpēc komandai bija vakars un nakts, lai savestu laivu kārtībā un turpinātu sacensības.
Otrā dienā startējām no pēdējās vietas, bet jau pirmajā trases taisnē izcīnījām trešo vietu, un šo vietu saglabājām līdz finišam. Trešajā braucienā startēju no trešās pozīcijas, sāku cīnīties jau par otro vietu, to sasniedzu un jau tuvojos līderim. Diemžēl trīs apļus pirms finiša tehnisku iemeslu dēļ – sāka jukt nost dzinējs – vairs nebija iespēju noturēt šo pozīciju. Nācās finišēt pēdējam.
Pēc trešā brauciena atradām problēmu – paldies par palīdzību mūsu lietuviešu draugam Pauļum Stainim, kurš neiekļuva lielajās sacensībās un kļūdas dēļ izstājās jau gandarījuma braucienā. Viņš mums izpalīdzēja ar rezerves daļām no savas laivas. Palīdzēja arī lietuviešu mehāniķis, tāpēc varējām īsā laikā saremontēt laivu un sagatavot to pēdējam braucienam.
Ceturtajā braucienā atkal startēju no pēdējās vietas, grūtā cīņā izvirzījos trijniekā. Cīnījos par otro vietu. Vācu pilotam notika negadījums, viņš arī uzmeta salto un nācās atkal restartēt braucienu. Negadījums ar Vācijas pilotu notika jau gandrīz pašās brauciena beigās, bet, tā kā nebija nobraukti paredzētie procenti, kas ir nepieciešami, lai brauciena rezultātus ieskaitītu, tad tas bija jāsāk no jauna.
Atkārtotā braucienā startēju no otrās vietas. Manu laivu no abām pusēm iespīlēja somu un franču piloti, bet tomēr izvirzījos vadībā, cīnījos par otro vietu. Pietuvojos līderim – franču pilotam, un tā arī noturēju savu pozīciju līdz finišam.
Abas sacensību dienas bija ļoti sarežģīti laika apstākļi – liels vējš, lieli viļņi, bija vairākas avārijas situācijas. Nācās braukt akurāti. Kopumā viss ir kārtībā, komanda ir priecīga par rezultātu, jo īpaši par pēdējo braucienu, - neviens negaidīja, ka mēs turpināsi cīņu līdz galam. Taču mēs parādījām, ka varam.
Uz sacīkstēm bija ieradušies arī latvieši, kas dzīvo Vācijā, lai redzētu, kā mēs braucam.
Mēs nobraucām tikai divus braucienus, ar šiem punktiem pietika piektajai vietai – to ņemot vērā, var teikt, ka augstajai piektajai vietai.
Arī pagājušajā gadā Eiropas čempionātā klājās līdzīgi – lidojums, divi braucieni un piektā vieta.
Paldies visiem, kas turēja par mums īkšķus un juta līdzi! Paldies par sirsnīgo atbalstu!
Lielajos čempionātos sezona ir beigusies, bet Latvijas un Igaunijas čempionāti vēl turpinās. Gatavojamies jau nākamajai sezonai, mums jau ir materiāls, ar ko strādāt, un kamēr laika apstākļi un iespējas ļauj, mēs darbojamies.
Rezultātu tabula
Vieta
Laivas numurs Pilots
Valsts Iegūtie punkti
1 2 REVERT Rudy FRA 1025
2 1 MANNINEN Juho-Matti FIN 1000
3 4 JELF Ben GBR 720
4 95 VIIPPO Kalle FIN 578
5 71 LIJCS Nikita LAT 525
6 46 STILZ Maximilian GER 433
7 122 Ifj. Horvath Attila HUN 423
8 80 TABORI Aron HUN 293
9 15 LANDEN Lauri FIN 233
10 19 SUNDE Nena NOR 206
11 30 WHITTLE Sam GBR 141
12 20 WIESE Patrick GER 83
Foto: Publicitātes attēls