Nissan Leaf tests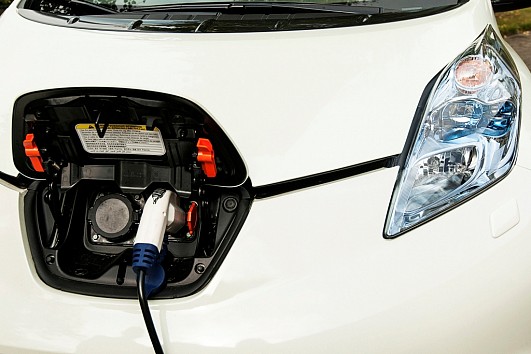 Foto:
2012.g. 27.septembris, 11:11
"Leaf" stingri ņemot, nav uzskatāms par šī gada jaunumu. Tā dzimšanas gads ir 2011. Daži pat saka – 2010. Taču elektromobiļu ceļš uz plašu tirgu un pat mazu valstu konkursiem nav vienkāršs. Mazi ražošanas apjomi, ierobežots demo mašīnu skaits. Un tā – "Leaf" ne tikai konkursā, bet arī Latvijas tirgū ir pieejams tikai šogad.
Konkursa "Latvijas GADA AUTO 2013" žūrijas iespaidi.
Boriss Sebjakins, auto žurnālists:
"Braucienam nepieciešamās enerģijas izmaksas šādā versijā samazinās reizes četras, pat piecas. Taču bez nopietnām valsts programmām elektriskas izvēles atbalstam, šāda auto cena (gandrīz 30 000 latu) šobrīd ir par lielu. Pat ja tāda investīcija iespējama, atmaksāsies tā tikai tad, ja brauksiet daudz. 100 km dienā dos ap 2500 Ls gadā. Piecos gados (elektroiekārtu garantijas laiks) tātad tikai nedaudz vairāk par trešdaļu ieguldītā."
Jānis Mežulis, arhitekts:
"Nerunāsim par to, kā šis izskatās. Tas šoreiz nav svarīgi. Bet brauc – fantastiski labi! Ne mazākās smagnējuma (ar akumulatoriem taču piekrauts!) pazīmes. Dinamika – izcila. Un turklāt tieši vajadzīgajā 0-100 km/h diapazonā, nevis kaut kādos tur nekad ikdienā nelietojamos turbo režīmos. Ietilpība un ērtības – neatpaliek no pierastajiem iekšdedzes auto. "Degvielas" cena šokējoši maza – uzlāde 120 – 150 km nobraukumam (pilsētā!) maksā apmēram divus latus. Benzīnu vajadzētu pirkt par kādiem 10... Vajadzētu bļaut – gribu tādu!!! Bet nez kāpēc es šaubos...
Šaubos, jo, lai saglabātu iecerēto kilometru rezervi, jāatsakās no ierastām ērtībām – apsildīšanas, kondicionēšanas, pat skaļas mūzikas utml. Katra šo papildierīču ieslēgšana tūlīt atspoguļojas displejā kā zuduši iespējamie kilometri. Baidos, ka jutīšos neērti, ja darbdienas vidū pēkšņi būs neatliekami jānokļūst, teiksim, no Rīgas Ogrē. Auto man ir, tomēr tik tālu aizbraukt nevaru...
Tātad – dalītas jūtas. Katrā ziņā – "GADA AUTO 2013" tas nez vai ir. Jāpilnveidojas akumulatoru tehnoloģijām. Jāmainās mums pašiem – jāsaprot, ka taupīgā, racionālā dzīvē neiederas neplānoti izlēcieni uz Ogri. Katrā ziņā – paldies, "Leaf"! Tu liec par nākotni domāt nopietni un revolucionāri."
Atis Jansons, auto žurnālists, "Latvijas GADA AUTO 2013" žūrijas priekšsēdētājs:
"Pirmkārt, pārsteidz gaitas un vadāmības kvalitātes. Pretēji gaidītajam, "Leaf" stūrējas pat tīkamāk par lielu daļu priekšpiedziņas auto, jo ir labāk, kā saka, izsvarots. Gandrīz kā klasika.... Otrkārt, izrādās, ka motora rūciens ir tikai daļa no pārvietošanās skaņām. Te rūciena nav (vien ultraskaņai tuvs svilpieniņš brīžiem), tomēr arī pilnīga klusuma nav. Rites trokšņi, vējš... Līdz datorspēles līmenim arī "Leaf" nenonāk. Treškārt – visu jau pateica kolēģi. Šī koncepcija nav šodiena vai rītdiena. Vēl gadiem jāpaiet."
Nissan "Leaf" tehniskie dati.
Cena 28 990 LVL
CO2 izmeši 0
Paātrinājums no 0 – 100km/h 11,9 sek
Maks. attāluma ar vienu uzlādi 175 km
Garums 4 445 mm
Riteņu garenbāze 2 700 mm
Pašmasa, min. 1 525 kg
Dzinēja jauda 80 kW
Akumulatoru ietilpība 24 kWh
Uzlādēšanas laiks no 220 V tīkla 8 stundas
"Nissan Leaf" ar saules paneļiem jumta spoileros maksā 29 205 LVL
Ražotāja "Nissan" komentārs.
Margus Miks (Margus Mikk), "Nissan Nordic Europe OY" Baltijas valstu vadītājs:
"Mēs vēlamies ikvienam sniegt iespēju uzzināt vairāk par "Nissan Leaf" un priekšrocībām, ko sniedz braukšana ar 100% elektrisku automobili, kurš nerada nekādus izmešus. "Nissan" vēlas parādīt nulles izmešu mobilitātes priekšrocības, rūpes par vidi un neatkarību no aizvien pieaugošajām degvielas cenām.''
Dainis Bremze, "Nissan" oficiālās pārstāvniecības Latvijā – SIA "Norde" valdes loceklis:
""Nissan Leaf" ir piecu durvju hečbeks, un tā braukšanas attālums ir 175 km*, kas saskaņā ar jauno Eiropas braukšanas ciklu "NEDC" (vidējo braukšanas attālumu) testu rezultātiem padara to par pievilcīgu un izdevīgu alternatīvu daudziem autovadītājiem. Automobiļa uzlādi no tukša akumulatora līdz 100% ar 16 A lādētāju, kas paredzēts lietošanai mājas apstākļos, var paveikt astoņās stundās, bet, izmantojot automobiļa ātrās uzlādes iekārtas, "Nissan Leaf" akumulatoru var uzlādēt no tukša līdz 80% līmenim 30 minūtēs. "Nissan Leaf" ir ļoti labi aprīkots automobilis ar skārienjūtīgu ekrānu, navigāciju, atpakaļskata kameru, inteliģento atslēgu un citām ekstrām. "Euro NCAP" drošības testos "Nissan Leaf" ir saņēmis maksimālo – piecu zvaigžņu drošības novērtējumu, kas to padara par vienu no drošākajiem automobiļiem Eiropā un vienīgo elektrisko automobili, kas līdz šim ieguvis maksimālo drošības novērtējumu. "Nissan Leaf" ir apbalvots arī ar titulu "Gada auto 2011" gan pasaules, gan Eiropas mērogā."
Konkursa informatīvie atbalstītāji: Delfi, www.jauniauto.lv, Latvijas Avīze, Ātruma cilts, garaza.lv, Diena, 10minutes.lv, Telegraf, FHM, iAuto.lv. Atbalstītāji: Mālpils muiža, SIXT leasing, LAMB, NRJ, Linearis, rentmama.com, Stūres klubs, holography.lv, PRmail.lv, V4 motors, ABI2.
Vairāk informāciju meklē gadaauto.lv