Nikitam Lijcam sadursme liedz cīņu par čempiona titulu; sacensību drošības laiva izglābj civilo laivu (+ foto)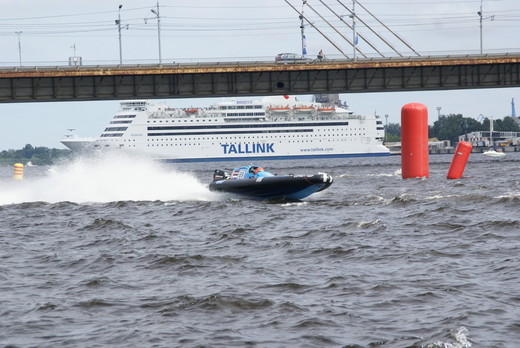 Foto:
2017.g. 18.jūlijs, 14:02
Svētdien Rīgā Daugavas akvatorijā no Vanšu tilta līdz Akmens tiltam notika Pasaules čempionāts 10 stundu izturības jeb enduro brauciens RIB tipa laivām, kas nozīmē V-veida laivas ar plastikas apakšu un piepūšamiem bortiem. Jūrmalnieks Nikita Lijcs piedalījās braucienos ar lielākajām laivām – PR2 "Akvashelf Racing Team" komandā. Sacensībās startēja arī PR4 laivas.
Kā pēc sava posma nobraukšanas laikrakstam atzina Nikita, tad komandā visi ir labi sportisti, bet taktiskajā izvēlē, pirmajā braucienā tomēr piedalījās viņš, jo viņam, kā noprotams, šajā klasē tomēr ir lielāka pieredze.
"Startējām no gaitas jeb bija tā saucamais "lecošais starts". Gribēju uzreiz izcīnīt pirmo vietu, jo kā pirmajam tomēr ir vieglāk braukt. Tomēr biju tikai kādā piektajā pozīcijā. Sākumā brauciens bija visai pagrūts – varēja pabraukt tikai lēnām. Pēc tam ar katru apli sāka iet aizvien labāk un ātrāk. Jau pēc stundas es biju panācis vairākus konkurentus un biju pirmajā trijniekā. Varēja cīnīties par pirmajām vietām, jo bijām cieši blakus," pēc pirmā brauciena stāstīja Nikita. Viņš arī atklāja, ka komandā bija vēl trīs laivas (tai skaitā jauniešu grupā), un ar savas klases laivas komandas biedru esot izveduši taktisku spēli, lai vieglāk būtu apdzīt konkurentus.
Arī no malas vērojot sacensības, bija redzams, ka Nikita aizvien tuvāk piekļūst vadošajām laivām un līdzjutēji sāka gaidīt no Nikitas ierasto pirmo vietu, bet tad nāca "negadījums" - Nikitas laivā no aizmugures līkumā ietriecās konkurenta laiva, sabojājot dzinēju.
"Man pirmajā piegājienā bija jānobrauc stundu piecdesmit minūtes. Es nobraucu stundu trīsdesmit minūtes – pie Vanšu tilta, tieši pie Prezidenta pils es biju līkuma ārmalā, braucu savā trajektorijā, kad Krievijas komandas laivas pilots iegrieza par asu un trāpīja tieši manas laivas dzinējā. Laiva apstājās, bija salauzts motora aizsargs un degvielas padeves sistēma. Laimīgi, ka es nobraucu malā," stāstīja Nikita.
Komandas mehāniķi, kas pārsvarā bija no Nikitas dzimtās komandas "Jurmala Racing Team", motoru salaboja vien 42 minūšu laikā. Cik bija redzams no malas, tad trieciena rezultātā bija iedragāts degvielas filtrs, un to nevarēja tik viegli noņemt.
Pēc sava posma Nikita vēl cerēja, ka būs iespēja cīnīties par pirmajām vietām. Diemžēl motora ķibeles sekoja, un vairākkārt nācās nobraukt no trases ātrāk nekā bija cerēts.
Neskatoties uz to, arī komandas pilote Ieva Millere bija salīdzinoši laimīga par nobraukto posmu: "Mana pusotra stunda, paldies Dievam, ir beigusies. Ar laivu viss ir pagaidām labi. Rokas nogurušas. Konkurenti ir ātri, bet es savu ritmu atradu un braucu – viss kārtībā." Vaicāta par sagurumu, Ieva atzina: "Nu, ir sagurums, rokas sāp, kājas sāp. Viena kāja notirpa tik tālu, ka nevarēju vairs sajust gāzes pedāli. Bet tā viss kārtībā!"
Diemžēl komandu likstas ar motoru turpināja piemeklēt un konkurenti tai laikā bija attālinājušies tik tālu, ka sapnis par kārtējo čempiona titulu nu jāatliek uz citu gadu. Katrā ziņā abas "Akvashelf Racing Team" laivas PR2 klasē finišēja, līdz ar to arī braucēji ir fiksēti kā šo sacensību dalībnieki, kas ir sasnieguši finišu.
Kopā ar Nikitu komandā startēja Latvijas sportisti Ieva Millere, Reinis Musts un Slovākijas sportists Marians Jungs.
Par to, ka sacensībās sportisti atdeva sevi visu, liecina ne tikai notikušais starpgadījums ar laivu sadursmi un sportistu nogurums, bet arī ar maču nogalē notikušo ČP – Akmens tilta tuvumā pēkšņi aizdegās viena no laivām, un sacensību drošības laiva ne tikai izglāba šīs laivas pilotu, bet arī degošo laivu aizvilka drošībā, kur to nodzēsa dežūrējošie ugunsdzēsēji.
Šis bija piecpadsmitais Pasaules čempionāts, piedaloties 20 laivām no 11 dalībvalstīm. Sportistiem tas bija desmit stundu izturības brauciens. Katras komandas sastāvā var būt no 2 līdz 4 pilotiem, kuri trasē nepārtraukti var atrasties maksimāli divas stundas. Šāda laivu klase dibināta ar mērķi attīstīt jūras laivu ātruma un manevrēšanas līmeni «nenogremdējamām» laivām, kuras pasaulē izmanto glābēji, ūdenslīdēji, militārpersonas, policija un makšķernieki, kā arī jūras dzīļu izpētes dienesti. Šīs laivas ir ieguvušas savu "nenogremdējamas laivas" statusu tad, kad laivu cieto korpusu papildināja ar daudz sekciju piepūšamajiem bortiem.
Nākamās sacensības Nikitam Lijcam būs sestdien, 22. jūlijā, Jelgavā, kur notiks kārtējais Latvijas čempionāta posms ātrumlaivām F2 klasē.
Foto: Jūrmala Racing Team