Chevrolet Aveo tests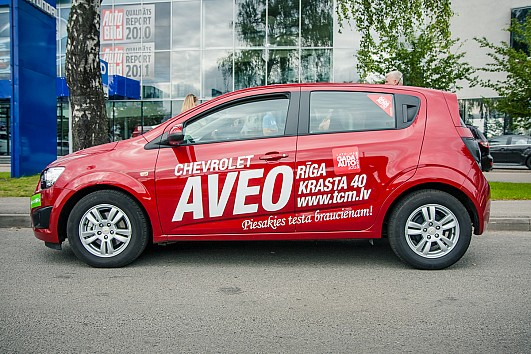 Foto: Chevrolet Aveo
2012.g. 13.oktobris, 11:11
Jaunā gadu tūkstoša sākumā Latvijas auto tirgus statistikā "Chevrolet" vārds parādījās tikai tabulas zemākajās ailēs un tikai tipiski amerikāniskā veidolā – uz vienas rokas pirkstiem saskaitāmi "Suburban", "Tahoe" (milzu izmēra apvidus auto), dažas "Corvette"...
2003. gadā pārdoti tika 34 auto ar šo marku. Izmaiņas nesa 2004., kad "General Motors" iekļāva savā globālajā tīklā finanšu grūtībās kārtējo reizi nonākušo Dienvidkorejas "Daewoo", sāka tā ražotnes piebarot ar savām tehnoloģijām un milzīgajām agregātu ražošanas jaudām. Kā mārketinga stratēģija Eiropā tika izvēlēta "Daewoo" automobiļu pakāpeniska pārdēvēšana par "Chevrolet", pircēju pieradināšana pie šī logotipa atrašanās nevis vairs uz amerikānisku milžu radiatoru restēm, bet gan pavisam nelielu, demokrātisku, lētāku nekā, piemēram, "Opel" auto noformējumā. Izdevās? Zināmā mērā jā. 2004. un 2005. gadā Latvijā tika reģistrēti attiecīgi 457 un 761 "Chevrolet". Gandrīz visi mazajā un kompaktajā klasē. Agregātu donors "Opel" gan netika panākts, taču pabaidīts gan. "GM" pat sāka piesardzīgi atdalīt šo divu zīmolu tirdzniecību, lai netraucētu tradicionālajam līderim.
Krīze satricināja abus. 2011. "Opel" Latvijā pārdeva ceturtdaļu no trekno gadu apjoma, "Chevrolet" – atkal tikai nepilnu pussimtu auto.
Un nu – "Aveo". Atšķirībā no daudziem iepriekšējo gadu mazajiem "Chevrolet" tas nav būvēts uz "Opel" platformas. Šasija jauna, oriģināla. Ļoti stingras konstrukcijas, ar telpiskiem elementiem visā grīdas garumā. Tiek pat runāts, ka šādu jauninājumu "GM" šeit iemēģina turpmākai visa sava modeļu klāsta (arī "Opel") pārejai uz šādu uzbūvi. Dzinēji gan no bagātīgā radinieka plašā un ļoti modernā piedāvājuma.
Dizains – oriģināls un pēc žūrijas vienprātīga atzinuma - stilīgs un atraktīvs. Savdabīgi, no atsevišķām cilindriskām daļām veidoti lukturi, savukārt salonā uzmanību piesaista motociklu stilā veidotais instrumentu panelis.

Automobilis pieejams hečbeka vai sedana versijās. Sedans ir par 360 mm garāks nekā hečbeks, kura garums ir 4039 mm. Pēc "Latvijas Gada Auto" žūrijas pirmās kopīgās testu dienas daudzi eksperti bija vienisprātis, ka par "Aveo" ietilpību var teikt to pašu, ko par visiem mūsdienu mazās klases automobiļiem – "mazauto", kas nebūt vairs nav mazs. Precīzāk to būtu dēvēt par nelielu. Par vietas trūkumu nevar sūdzēties ne priekšā, ne aizmugurē sēdošie. Pie stūres var ērti iekārtoties pat visai liela auguma vadītājs. Arī bagāžnieks ir ietilpīgs, bet tā izmērus abu virsbūves versiju mašīnām var palielināt, salokot aizmugures sēdekļu atzveltnes. Sedana bagāžniekam ir 502 litru tilpums, kas ir starp labākajiem rādītājiem klasē. Savukārt hečbeka aizmugurē var izveidot 653 litru kravas telpu, ja tiek nolocīts aizmugurējais sēdeklis.
Salona iekārtojums atbilst mūsdienu budžeta klases automobiļa prasībām – vienkārši apdares materiāli, laba montāžas kvalitāte. Lai gan mērinstrumentu panelis ar vienu digitālo skalu tahometram un blakus piemontētu informācijas displeju, kurā atrodas digitālais spidometrs, izskatās visai netradicionāli, savus tiešos uzdevumus tas veic visnotaļ labi.
"Aveo" jau standarta aprīkojumā iekļauta kruīza kontrole un palīgsistēma kustības uzsākšanai slīpumā, elektroniskā stabilitātes sistēma, dziļumā un augstumā regulējama stūre, kondicionieris, stereo sistēma un vēl citas noderīgas lietas, kas daudziem konkurentiem pienākas par papildu samaksu.
Gaitas īpašības pat pa mūsu nelīdzenajiem ceļiem šim auto ir gana labas, uz komfortu orientētas un bez liekām sportiskām ambīcijām. Vairāki žūrijas locekļi jau pēc pirmās iepazīšanās ar "Aveo" uzsvēra šā automobiļa lielisko cenas un kvalitātes attiecību.
"Latvijas Gada Auto 2013" žūrijas biedru viedokļi.
Raimonds Volonts, autoservisa "V4 motors" direktors: "Pārsteidzošs interjers, acīmredzami uz jauniešu auditoriju orientēts. Lai gan apdares materiāli vienkārši, salons likās gana kluss. Aizmugurē daudz vietas. Gaita komfortabla, nav par cietu."
Aldis Bite, autožurnālists: "Līdz pat "Cruze" izlaišanai, "Aveo" bija pasaulē pārdotākais "Chevrolet". Tā ir jēdzīga izvēle taupīgiem un garā možiem cilvēkiem, kas ikdienā izvēlas praktiskumu, turklāt grib, lai mašīna būtu lēta gan iegādes brīdī, gan ekspluatācijā. Šie cilvēki arī cer, ka mazs budžeta klases auto nebūs emocionāli garlaicīgs. "GM" inženieri panākuši kompromisu, jo "Aveo" gadījumā ikdiena nelielā mašīnā kļuvusi baudāmāka.
Sešpakāpju automātiskā pārnesumkārba, kas pieejama tik nelielā auto, liecina, cik nopietni "GM" izturas pret mazo mašīnīti, kas būtībā ir piedāvājuma "lētais gals". Kopš 2011. gada rudens "Aveo" nopērkams arī ar "Fiat"/"Opel" kopdarbā tapušo 1,3 litru turbo dīzeli, pirmo - mazās klases "Chevrolet" automobiļos. Izcilas vadāmības tīkotājiem, iespējams, vilšanos sagādās elektriskais stūres pastiprinātājs! Ja tā - atcerieties, kādas klases auto ir mazais "Aveo"!"
Ivars Caune, autosportists: "Normāls mazās klases auto ar labām gaitas īpašībām. Tiesa, nedaudz nepatika pārskatāmība no vadītāja vietas. Konkrētajam automobilim ar automātisko kārbu tāda sajūta, ka automāts noņem motoram jaudu."
"Chevrolet" dīlera komentārs.
Aleksandrs Kosjakovs, SIA "TC motors" pārdošanas vadītājs: "Sava izsmalcinātā dizaina, sportisko vadīšanas iespēju, augsta līmeņa drošības aprīkojuma, degvielas ekonomijas un daudzpusības dēļ "Aveo" patiešām izceļas citu piecdurvju automobiļu vidū. Auto ir mazs, tomēr spēj piedāvāt ļoti daudz. "Aveo" šasija ir viena no izturīgākajām savā klasē. Savienojumā ar lielisko jauno dzinēju klāstu un sešu pakāpju transmisiju, tā padara "Aveo" vadīšanu par patiesu izklaidi.
Visu modeļa standarta komplektācijā ietilpst seši gaisa spilveni, četru kanālu bremžu pretbloķēšanas sistēma (ABS) ar bremzēšanas palīdzību un elektronisko stabilitātes kontroli (ESC). Negadījuma laikā "Aveo" jumts spēj izturēt 4,2 reizes lielāku smagumu nekā paša automobiļa svars. Izmantotajam tēraudam ir lielāka stiepes izturība, kas aizsargā cilvēkus, kuri atrodas automobilī.
Tehniskā informācija un cenas.
"Chevrolet Aveo" ir mazās klases hečbeks vai sedans. Cena tagad sākot no 6 715 latiem (šajā jomā konkurēt var tikai "Dacia Logan" un citu ražotāju mazāki auto). "Chevrolet Aveo" cenas un komplektācijas var skatīt šeit
"Sixt" TCO (total cost of ownership) "Chevrolet Aveo" 1,6 ir 409,28 lati bez PVN mēnesī. TCO aprēķins ir metodoloģija, kas palīdz automašīnas īpašniekam aprēķināt vidējās auto izmaksas mēnesī un salīdzināt dažādas modeļus savā starpā. Aprēķinā tiek ņemts vērā līzinga mēneša maksājums, degviela, nodokļi, valsts nodevas, tehniskās apskates, apdrošināšana (OCTA, KASKO), kā arī tādi pakalpojumi kā normāla nolietojuma remontdarbi, apkopes, riepas, to maiņa, uzglabāšana un 24h palīdzība uz ceļa.
Benzīna dzinēji:
1,2 l 70 Zs 5,9 l/100 km
1,2 l 86 Zs 5,5 l/100 km
1,4 l 100 Zs 5,9 l/100 km
1,6 l 115 Zs 6,6 l/100 km
Dīzeļdzinēji:
1,3 l 75 Zs 3,9 l/100 km
1,3 l 95 Zs 4,1 l/100 km
Transmisija: piecpakāpju vai sešpakāpju mehāniskā pārnesumkārba; sešpakāpju automātiskā pārnesumkārba; priekšējo riteņu piedziņa
"Latvijas Gada Auto 2013" fināls notiks šā gada 01. decembrī. Konkurss notiek jau četrpadsmito reizi no 1998. gada. Iepriekšējo gadu uzvarētāji ir: "Nissan Qashqai - 2007", "Škoda Superb - 2008", "Volkswagen Golf 6 - 2009", "Opel Astra - 2010", "Volkswagen Jetta - 2011"
Konkursa informatīvie atbalstītāji: Delfi, www.jauniauto.lv, Latvijas Avīze, Ātruma cilts, garaza.lv, 10minutes.lv, Telegraf, FHM, iAuto.lv. Atbalstītāji: Mālpils muiža, SIXT leasing, LAMB, NRJ, Linearis, rentmama.com, Stūres klubs, holography.lv, PRmail.lv, V4 motors, ABI2.